Costs to Consider When Purchasing a New Home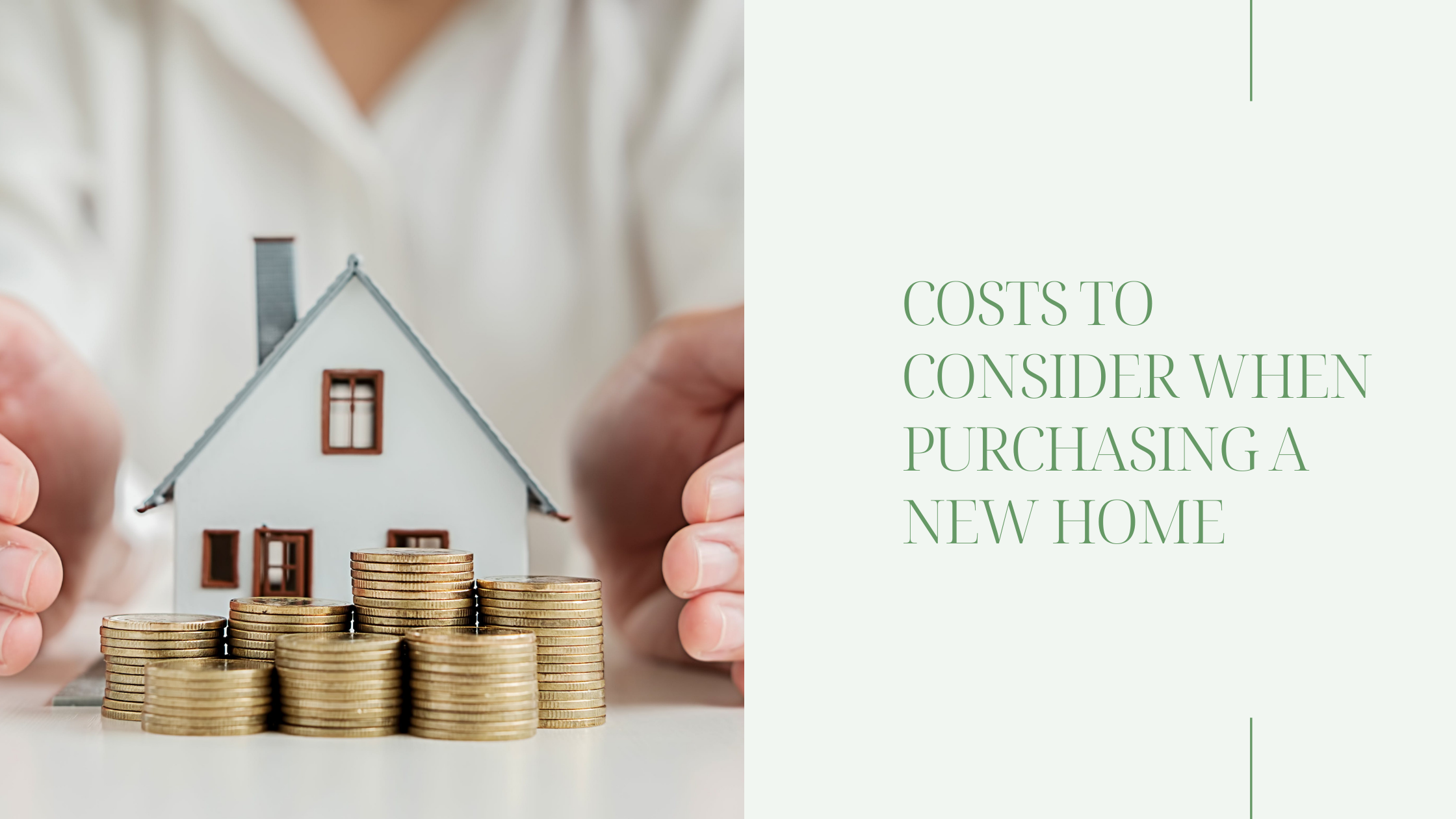 It is important to keep in mind that the total cost of your new home, includes more than just the sale price.

Unexcepted costs, from insurance to move-in expense, can leave the homebuyer in both financial and emotional distress and take away from the excitement of their new home purchase – if they don't plan for them.

To avoid such concern, we've created a list of some unexpected costs that could come with purchasing a new home.

Down payment. Your down payment is typically the first expense a homebuyer will begin to save towards. Down payments vary depending on what type of mortgage you choose. To help you better determine which loan program is right for you, visit our Loan Options page on our website. Once you have chosen the right loan program for you, you can start saving towards your down payment.
Closing costs. These costs, which begin to accrue as soon as you start the home buying journey, can often be overlooked. But that does not mean that they shouldn't be budgeted for. These costs can include, but are not limited to; your application fee, origination and/or underwriting fees, title insurance, title search fee, and in some cases a transfer tax.
Move-in expenses. From hiring a moving truck to purchasing cleaning supplies, moving expenses are inevitable and should always be considered in the total cost of your new home.
Insurance. Homeowners can be eligible for two different types of insurance programs:
Homeowner's insurance. This type of insurance protects you from unexpected damages to your home, such as effects from a natural disaster, theft, or vandalism, to name a few. Though this insurance is not required by law, it is highly recommended and can be required for some lenders.

Private Mortgage Insurance. PMI or private mortgage insurance is required when a homebuyer puts less than 20% towards their down payment. This insurance provides protection for the lenders if the buyer defaults on their loan. It's helpful to note that this insurance does not last the lifetime of the loan and is eventually eliminated as the buyer pays down their mortgage.
Property Taxes. These taxes, which are often included in your monthly mortgage payments, vary in geographic location. Property taxes are a variable cost and are not always based on the initial price you paid for your home. Meaning, they change over time, as the value of your home changes. Some possible reasons for an increase in property taxes would be a home improvement to you or a neighbor's home or the development of a new school nearby.
HOA. HOA, or homeowner's association fees, are applicable when buying a home or condo in a community that is run by a homeowner's association. These fees are used towards services provided by the association such as security, maintenance, landscaping, and amenities like a pool or a gym. These costs vary from place to place.
Home maintenance, repairs, and utilities. Having a fund available for things like maintenance, repairs and your new utility bill is always a good idea when purchasing a new home. Some experts suggest saving 1% of the home's value as an emergency maintenance fund in the case that these almost certain expenses arise.
RECENT POSTS