10 Tips for Staging Your Home to Sell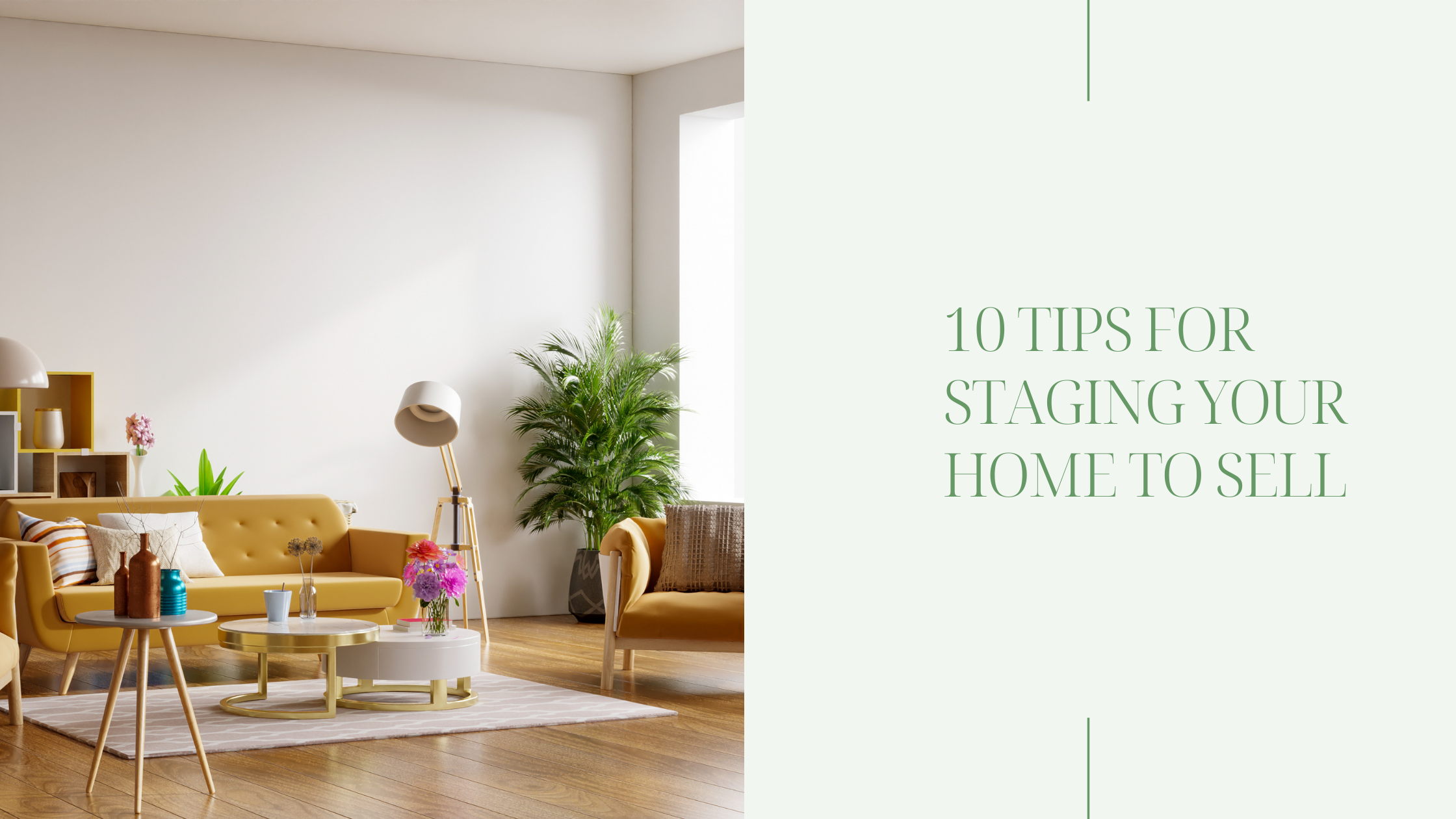 Once you've decided to sell your home, you'll need to start thinking about the next step: Home Staging. Staging is the setting and arranging of your home to appeal to potential buyers.

Different than decorating, it does not convey a sense of style, rather sets the stage for others to imagine themselves living there.

It is an extremely important part of the home buying and selling process and because of that, we've put together a helpful list of 10 tips to successfully staging your home!

Start with curb appeal. When it comes to staging your home to sell, you must first start with curb appeal. Think – first impressions. The outside of your home is the first impression all potential buyers will have – and you want it to be a good one. There are many things that go into creating curb appeal for your home, such as repainting or repairing needed items, power washing your driveway, walkway, or sides of your home, and cleaning your gutters and roof.

For a more exhaustive list of curb appeal tips, check out our blog on 10 Curb Appeal Tips That Will Help You Sell Your Home Faster.

Depersonalize your space. With the overall goal of encouraging potential buyers to imagine themselves living in your home, it is helpful to depersonalize your space. This includes getting rid of personal photos, putting away jackets and personal clothing, and hiding common personal products that may line your bathroom counter. It may seem like these actions will make your space 'less homey', but only to you.

Eliminating your personal items will make room for potential buyers to imagine their own photos hanging on the walls, their own shoes lining the front entrance, their coats hanging, and will allow them to further identify with the space.

Get rid of clutter. Like depersonalizing your space, you're going to want to dispose of all unnecessary clutter. Clearing your clutter makes your home look cleaner, bigger, brighter, and more welcoming. No one wants to walk into a mess, and clutter can be distracting from the main selling point – which is your beautiful home! Keep your décor minimal and add only what is necessary.

Keep in mind, decluttering doesn't mean throwing everything into a closet and shutting the door! One major selling point of a home – and one that most potential buyers will be looking for – is the closet and storage space. In fact, many real estate experts suggest keeping your closets open during a home viewing to further show off the storage space. And if it's filled with all the clutter from the living room, it's not a great look. Make sure as you're decluttering, you're throwing out or properly storing your items.

Clean, clean, and then clean some more. Deep cleaning your entire home is one of the most important steps you can take when staging your home. It is easy to overlook places that you walk by every day, without thinking twice. But remember, potential buyers are looking at it for the first time and with heightened attention to detail.

Places that are often overlooked are baseboards, pet fur on furniture and around the floor, and high places like ceiling fans or light fixtures. Make sure when you are preparing to clean, you consider every corner and look at everything through a metaphorical magnifying glass.

Make any needed repairs. If there are any spots in your house in need of a paint touch-up or appliances in need of a quick fix – now is the time to make any necessary repairs. This shows potential buyers that you take care of your belongings, which extends to your home, and provides assurance that you are not selling them a home that has been neglected in any way. This also instills trust amongst home buyers and sellers.

Keep it neutral. In a similar sense to depersonalizing your space, presenting your home in a neutral color and design will generally make it more appealing to more people. Styles and colors are specific to certain taste levels, and the last thing you want to do is alienate or offend a potential buyer with something too loud or very specific. This may mean you may want to consider re-painting a certain room or wall in a more neutral color. This way, buyers can walk through the home and see a blank canvas that they can soon turn into their own.

Add fresh flowers or plants. Bringing fresh flowers and plants into your space is a great way to liven up any environment while adding a bit of color. It can also bring a pleasant smell that will make your home more inviting. If you have pets or children and you are wary of bringing plants into your space, consider buying fake plants that will add life and color to your space, without making a mess or causing potential harm.

Bring in the light. Brightening your home with light fixtures or window treatments is a great way to energize your space! Bringing in light often makes a home feel larger, more welcoming, and warmer. If your home is generally darker due to trees or location, consider buying more lighting and placing them throughout the space. Remember, welcoming is the feeling you want to convey in every room of your home.

Consider furniture placement. Many of us arrange our furniture to our own liking, which is fine – unless you're trying to sell your home. Industry professionals suggest pulling furniture away from walls and bringing couches and chairs into a closer seating area. This will open the room and allow for a more walkable area.

The great thing about furniture – you can move it as many times as you'd like! Play around a bit and find what looks best for your space. Just keep in mind that you want your space to look open and welcoming, while at the same time giving off the idea of homey and cozy.

Clean or refinish floors. Another area that we tend to overlook is our floors. This is one space that accumulates a lot of wear and tear and is extremely important to spend time improving the appearance of. If you have a home with mostly carpet, considering renting or purchasing a steam cleaner to eliminate stains or residue from normal everyday activity. Likewise, if you have hardwood floors, consider refinishing them so the new homeowners feel that they truly are purchasing a new home.
RECENT POSTS
Recent Comments
Apr 19th, 2021 pm30 12:46 pm
I'm planning to sell my house this year, and that is why I've decided to look for a contractor that may construct a porch in it because this will create a better curb appeal. Well, it also made sense when you suggested the importance of eliminating personal items. Thank you for sharing the perks of pressure washing the driveway and house's exterior.
Apr 19th, 2021 pm30 12:46 pm
I don't even know the way I stopped up here, however I thought
this publish was good. I do not realize who you're however definitely you are going to a well-known blogger should you are not already.
Cheers!