Common First-Time Homebuyer Mistakes & How to Avoid Them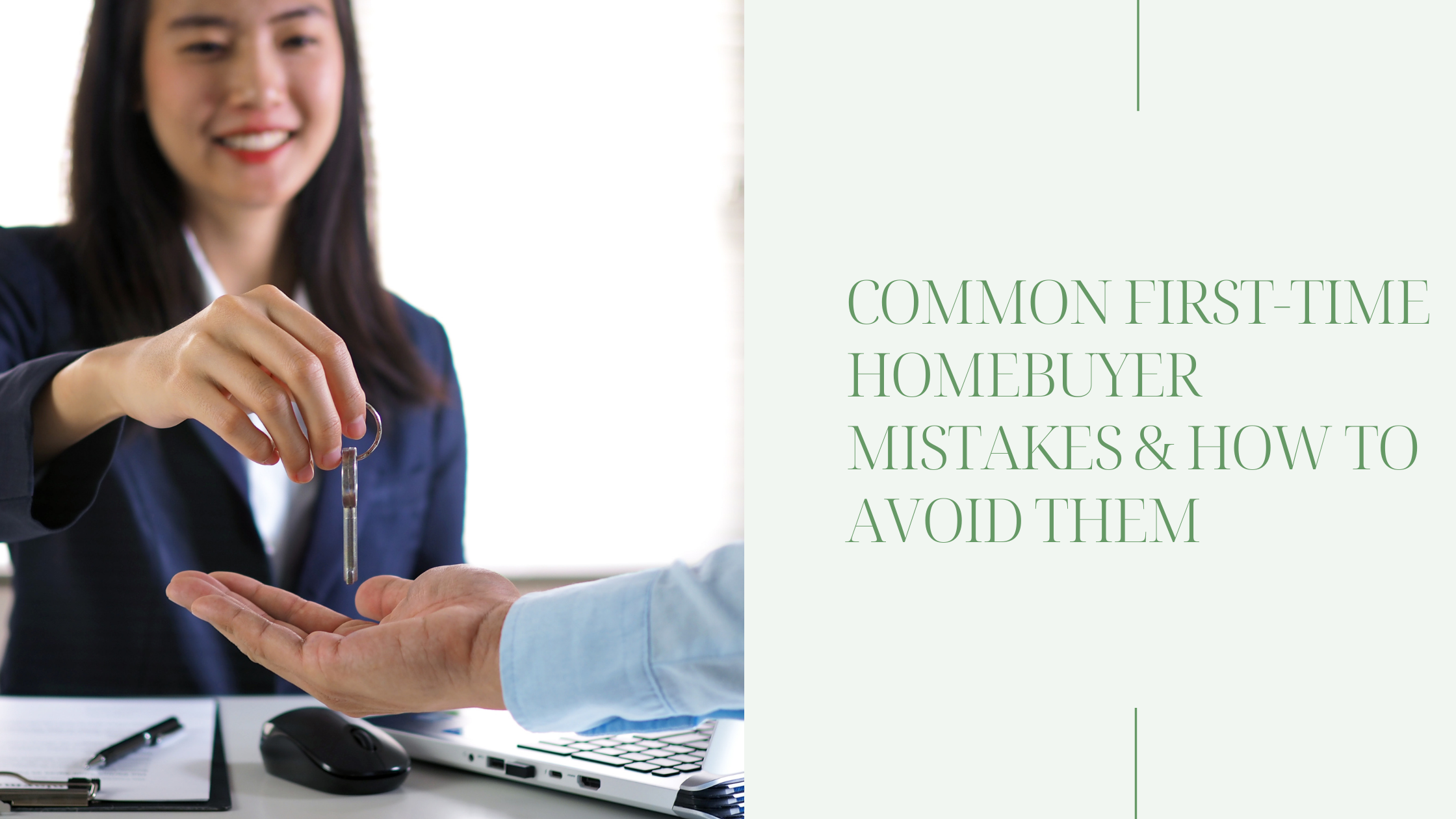 Navigating the housing market can be challenging for seasoned and first-time homebuyers alike. And in an ever-changing, competitive market – like the one we find ourselves in today – it can feel even more overwhelming.
To help, we've listed FIVE of the most common mistakes that first-time homebuyers often make – and how they can best avoid them.


Mistake #1: Looking for a home before applying for a mortgage.
In a competitive market like today's, offers are typically not even considered without a buyer providing a mortgage loan preapproval. Most sellers won't entertain these offers, because removing a home from the market before a buyer has even applied means the potential loss of other, serious buyers.
To avoid this common mistake, borrowers should make sure to get a full underwritten preapproval BEFORE starting their home buying search. This shows the seller that their offer is solid and can be taken seriously. Borrowers should also make sure they are working with a mortgage lender who is doing a full review of their credit, income, and assets so that they know they can assist with meeting all the contract terms before the borrower makes an offer.


Mistake #2: Purchasing a home that is OVER budget.
Though it may be tempting – especially when it feels like they have finally found the perfect home – it is never a good idea for borrowers to overextend themselves. Not only will it add more day-to-day financial stress, but it also puts buyers at risk for foreclosure if their financial situation suddenly changes.
Borrowers can avoid this common mistake by focusing on the amount of monthly payment they can afford, rather than the maximum amount of loan they qualify for.


Mistake #3: Being careless with your credit.
Many borrowers make the mistake of taking on new loans or credit cards after their initial preapproval, which can greatly jeopardize their closing and final loan approval. Most lenders will do a final credit check prior to closing and any changes to the borrower's credit profile could impact the ability to close or the final terms of the loan.
Borrowers can avoid this mistake by deciding not to take on new credit cards, close existing accounts, or take out new loans in the period leading up to applying for a mortgage through closing day. If possible, borrowers should spend their time paying down their existing balances to below 30% of their available credit limit and continue paying all monthly bills on time.


Mistake #4: Waiting for the 'unicorn'.

It's understandable that many buyers – especially those who are purchasing a home for the first time, will want to wait until they find the PERFECT home. You know, the one they have been building in their mind for years – the one that checks off all the boxes. The reality is, the perfect home is rare, and if borrowers spend their time waiting for it to come around, they are likely to pass up options that could be great – even if it isn't exactly what they imagined it would be. This is especially important to keep in mind when buyers find themselves in a highly competitive seller's market, like the one we find ourselves in today.
Borrowers can avoid this common mistake by deciding ahead of time to be flexible with certain elements they are looking for in a home and to also be willing to put in sweat equity. There are even some loan programs that allow borrowers to include the cost of repairs into their loan amount.


Mistake #5: Overlooking all your mortgage loan options.
Many home buyers might not know that there are programs out there that provide down payment assistance specifically to first-time home buyers. From zero to low down payment options, to flexible credit requirements, these programs can often be lifesavers for many borrowers.

So, what are they?

FHA Loans
Insured by the Federal Housing Administration, an FHA loan is ideal for first-time homebuyers with less-than-perfect credit.
With a down payment as low as 3.5% and interest rates generally lower than conventional loans with the same terms, this type of loan is perfect for those who may not meet the qualification factors required for a traditional conventional loan program. An FHA loan encourages homeownership by providing affordable housing opportunities with low down payments and flexible credit requirements.
What's more, is that borrowers have the option to use gift funds and seller credits when borrowing money to purchase a home with an FHA loan. Making it particularly beneficial to those borrowers with less cash available to them.

Pros of FHA loan program:
3.5% down payment
Easier credit and income qualification
Up to 6% in seller credits allowed
Gift funds available
Cons of FHA loan program:
Requires monthly mortgage insurance
Mortgage insurance is permanent for life of loan
VA Loan
Backed by the U.S. Department of Veteran Affairs, a VA loan is ideal for veterans or active-duty military who are looking to purchase a home.
This type of loan offers low-interest rates with zero down payments and no monthly mortgage insurance. With an upfront funding fee that can be rolled into the loan amount, veterans are not required to pay out of pocket.
The VA loan program is an excellent choice for first-time and repeat buyers alike. With zero down payment and up to 6% seller concessions available to cover closing costs and pre-paids, it is possible for borrowers to structure a VA loan with little to no money out-of-pocket at closing.

Pros of VA loans program:
Zero down payment required
No monthly mortgage insurance
Low monthly payment
Cons of VA loan program:
Not available to all borrowers, this program is limited to veterans or military personnel
Has an upfront funding fee (VA's version of mortgage insurance)
A VA (Veterans Administration) guaranteed home loan is the preferred loan program for active, non-active, Reserve, National Guard, and retired military of the armed forces because there is no down payment needed and no private monthly mortgage insurance required.


USDA Loan
Backed by the U.S. Department of Agriculture, a USDA loan is ideal for buyers looking to purchase a home in a rural or suburban area with no down payment and minimal investment.
This type of mortgage loan program offers many advantages for borrowers who may not qualify for other programs, such as flexible credit guidelines and low monthly mortgage insurance costs. It is important to keep in mind that properties that qualify for USDA funding must fall within certain geographical areas.

Pros of USDA loan program:
No money down payment option
Flexible credit and qualifying guidelines
Ability to finance repairs and closing costs into loan
Cons of USDA loan program:
Geographical restrictions
Income limits
Single family, owner occupied homes only – no investment properties

Purchasing a home, no matter what your financial situation may be, is a big decision. Before starting your search, make sure that you know what some of the most common first-time homebuyer mistakes are, and how you can best avoid them.
To start your homebuying journey, contact a VanDyk Mortgage Loan Originator today!
RECENT POSTS
Recent Comments
Oct 5th, 2021 pm31 1:14 pm