What's the Difference Between Refinancing & Home Equity Loan?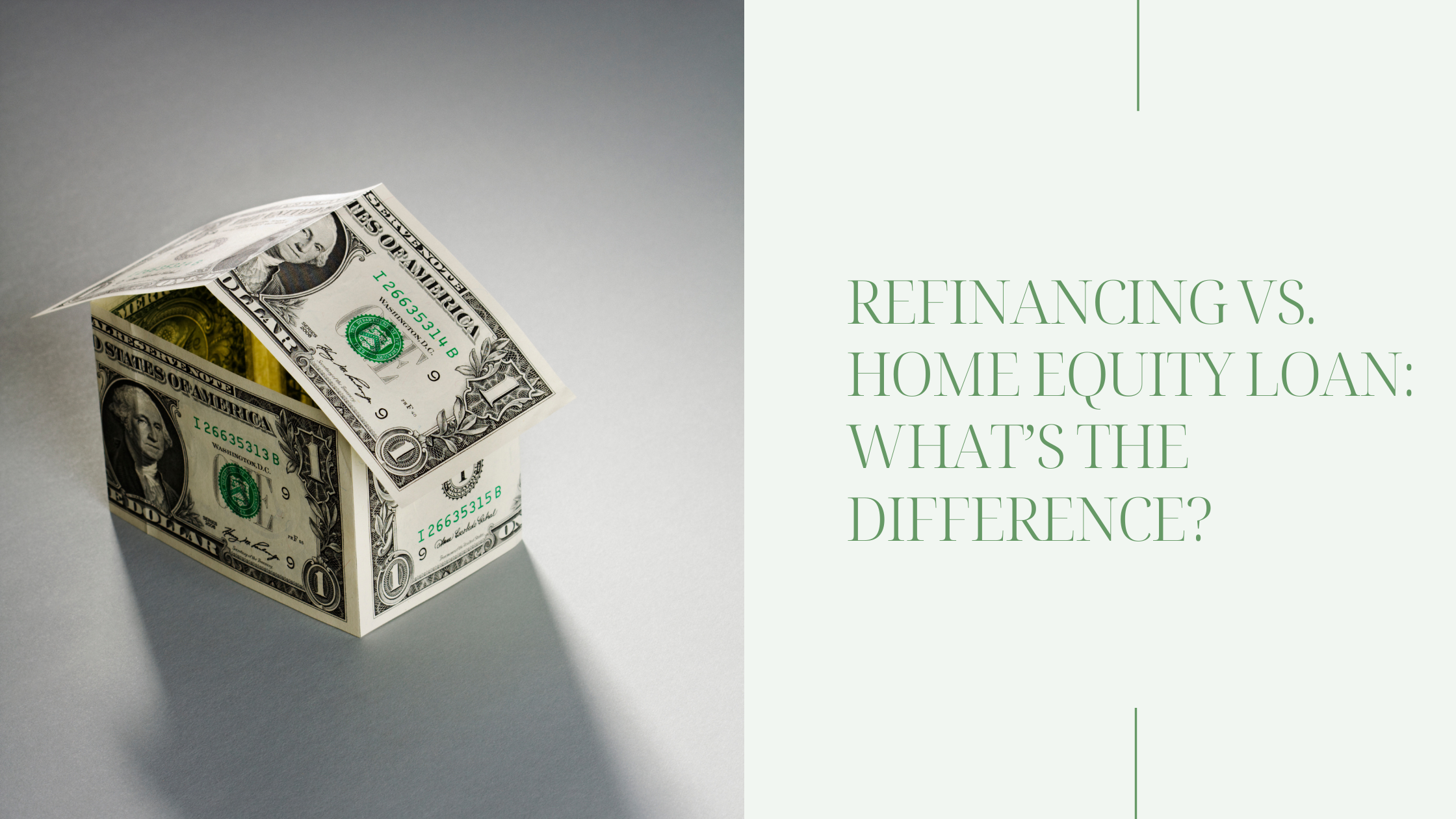 One of the major benefits of owning your own home is that it can often be a major financial investment. In the long-term, real estate tends to increase in value over time due to the appreciation of the land it sits on and by building equity.
To determine the value of your property, let's take a closer look at appreciation, how to build equity, and different ways to obtain a mortgage loan refinance.
What is Appreciation?
Appreciation represents the change in the value of your home over time. This change is typically due to the piece of land that the home sits on, rather than the structure itself which tends to lessen in value, due to typical wear and tear.
What is Equity?
A home's equity represents the difference between the current market price of the home and the amount that is still owed on the mortgage. Equity grows as you pay down your mortgage. It is important to note that building equity takes time, as it takes a while to lower the principal balance owed on the mortgage loan.
Both appreciation and equity grow over time. This means the longer you own your home, the more valuable it becomes.
With this, homeowners who take out a mortgage to pay for their home can choose to access cash to cover events like unplanned emergencies, necessary repairs, and important updates by choosing to refinance their current mortgage loan.
Why would you want to Refinance?
The main reason homeowners choose to refinance is to lower the overall cost of their mortgage or obtain equity that has been built over time.
Borrowers can lower the overall cost of the mortgage loan by refinancing during a period of lower interest rates. Or, they can choose to access the equity they've built in their home get cash out to pay for upgrades, remodels, or other life expenses.
What types of Mortgage Loan Refinances are there?
The two most common forms of mortgage loan refinancing are rate-and-term refinancing, which is when a borrower exchanges their current loan for a new one, or by accessing equity in their home, which can be done by obtaining a cash-out refinance or home equity loan. Though these are the most popular forms of refinancing, there are many methods out there and it is important to understand each to assure that you are selecting the right one for your unique situation.
What is a rate-and-term refinance?
A rate-and-term refinance is when a borrower replaces their current mortgage with a new one, typically with a better interest rate. No money is exchanged in this type of refinancing, other than any costs associated with closing or funds from the new loan to pay off the existing one.
What is the difference between a cash-out refinance and a home equity loan?
A cash-out refinance pays the homeowner a portion of their home's equity in cash. This method results in a new mortgage loan for the homeowner at a larger amount than was owed on the previous loan, giving owners cash in hand. Compared to a rate-and-term refinance, a cash-out refinance will typically result in borrowers paying a higher interest rate or more points.
A home equity loan gives homeowner's cash in exchange for the equity they've built up in their property as a separate loan. They typically carry a lower interest rate than personal loans because, when you get
Home equity loans are often structured as lines of credit with variable interest rates and payments which make them less predictable. Borrowers should consider obtaining a copy of their credit report before going through the process of applying for either loan, to be sure it is the right decision for them.
What are the benefits of refinancing?
Refinancing can be beneficial to homeowners in many ways. Whether you are looking to lower your mortgage payments or access equity in your home to pay for necessary upgrades, a child's education, or collect some extra cash for the upcoming holiday season, a refinance can help you access cash quickly.
Visit our blog post on the Top 5 Reasons to Refinance here.
To learn more about the different methods of mortgage loan refinancing and to determine which one is right for you, contact a VanDyk Loan Originator today!
RECENT POSTS
Recent Comments
Dec 28th, 2021 am31 10:00 am
My favorite part of this article is the importance of understanding the consequences when you choose a certain option. My best buddy informed me that he intends to refinance his house due to financial issues, and he asked if I had any suggestions on the best course of action. Thank you for your informative article; I'll be sure to inform him that he can obtain answers to any of his questions by visiting a reputable loan refinance service.
Dec 28th, 2021 am31 10:00 am
Simply wish to say your article is as astonishing.
The clearness in your post is simply cool and i can assume you are an expert
on this subject. Fine with your permission allow me to grab your feed to keep updated with forthcoming post.
Thanks a million and please continue the enjoyable work.