What's the Difference Between Refinancing & Home Equity Loan?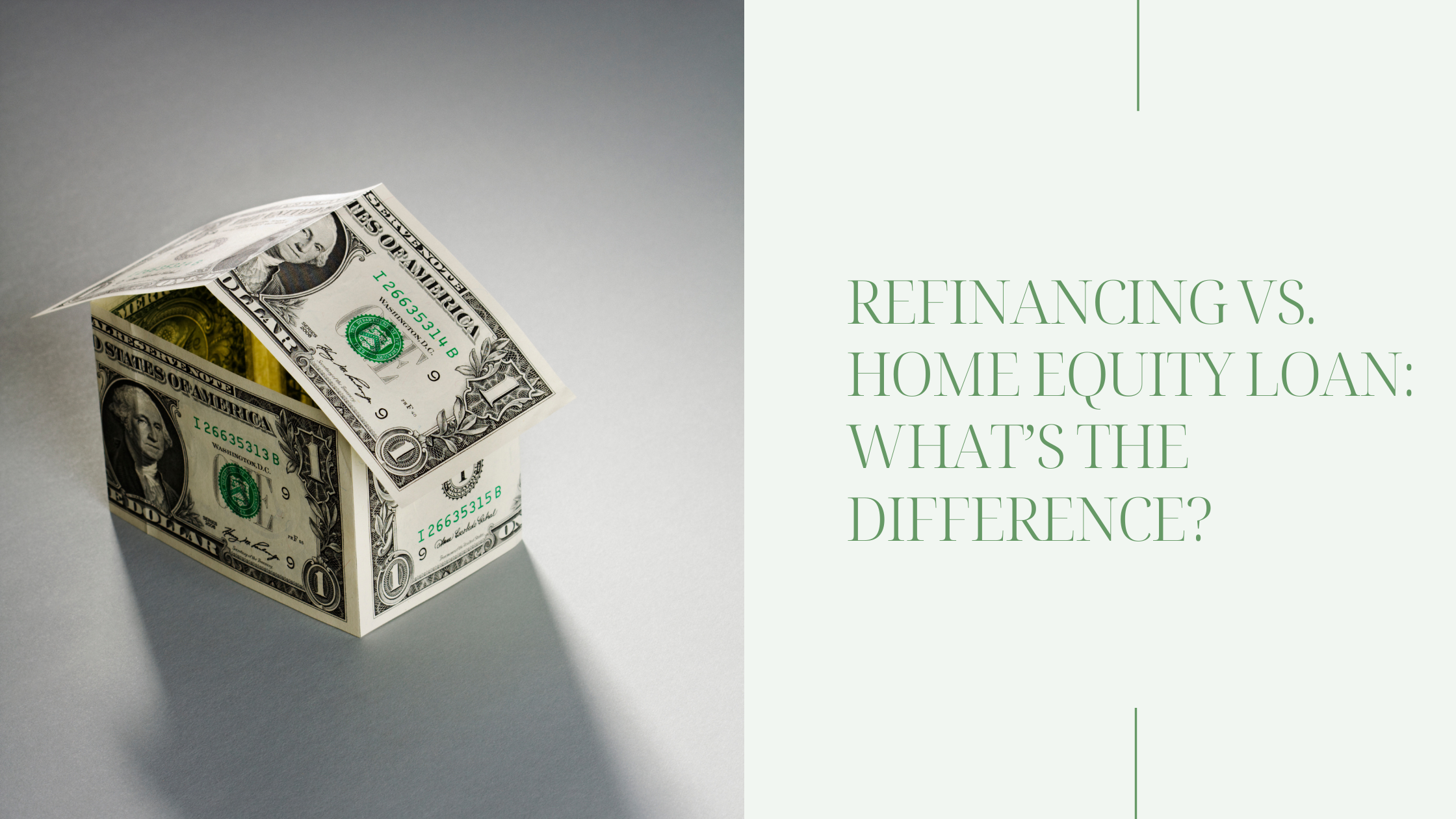 One of the major benefits of owning a home is that it is, in fact, a major financial investment. By obtaining a mortgage loan refinance or home equity loan, homeowners can access cash to cover events like unplanned emergencies, necessary repairs, and important updates.

So, what is the difference between the two and when should a borrower consider each?


What is a Mortgage Loan Refinance?
Refinancing is the act of paying off a borrower's current mortgage with a new one, typically at a lower interest rate, saving them money in the long run.

What is a Home Equity Loan?
A Home Equity Loan gives homeowner's cash in exchange for the equity they've built up in their property as a separate loan.

Both methods can be beneficial to homeowners who need to access a home's equity. However, a borrower's circumstances can determine which method is best for them.


When should a borrower Refinance?
Refinancing is ideal for homeowners who intend on staying in their current home for at least the amount of time that the benefits of reduced monthly payments or another tangible benefit will recoup the closing costs associated with a full new mortgage. Refinances can either be "rate and term" or "cash-out", meaning the equity in the home can be leveraged to pay off just the current loan or both the current loan and receive additional equity as cashback at closing.

When should a borrower take out a Home Equity Loan?
A home equity loan is ideal for borrowers who are looking for a significant sum of money right away for a specific purpose, like paying for a major home improvement. A home equity loan may be the best option for borrowers who currently have a low-interest rate on their first mortgage and the "blended rate" and payment of their current 1st mortgage and new 2nd mortgage is less costly than replacing it with a whole new loan.

Another consideration to keep in mind is that Home Equity Loans are often structured as lines of credit with variable interest rates and payments which make them less predictable. Any borrower on a tight budget with limited disposable income would need to take this into account.


It is important to note that for borrowers to refinance or obtain a home equity loan, they must take into consideration their credit score. If their score is lower than when they originally purchased their home, refinancing may end up increasing their interest rate. Borrowers should obtain their credit report before going through the process of applying for either loan, to be sure it is the right decision for them.


To learn more about the differences between refinancing and home equity loans and to determine which method is right for you, contact a VanDyk Mortgage Loan Originator today!
RECENT POSTS