What Does a Title Company Do?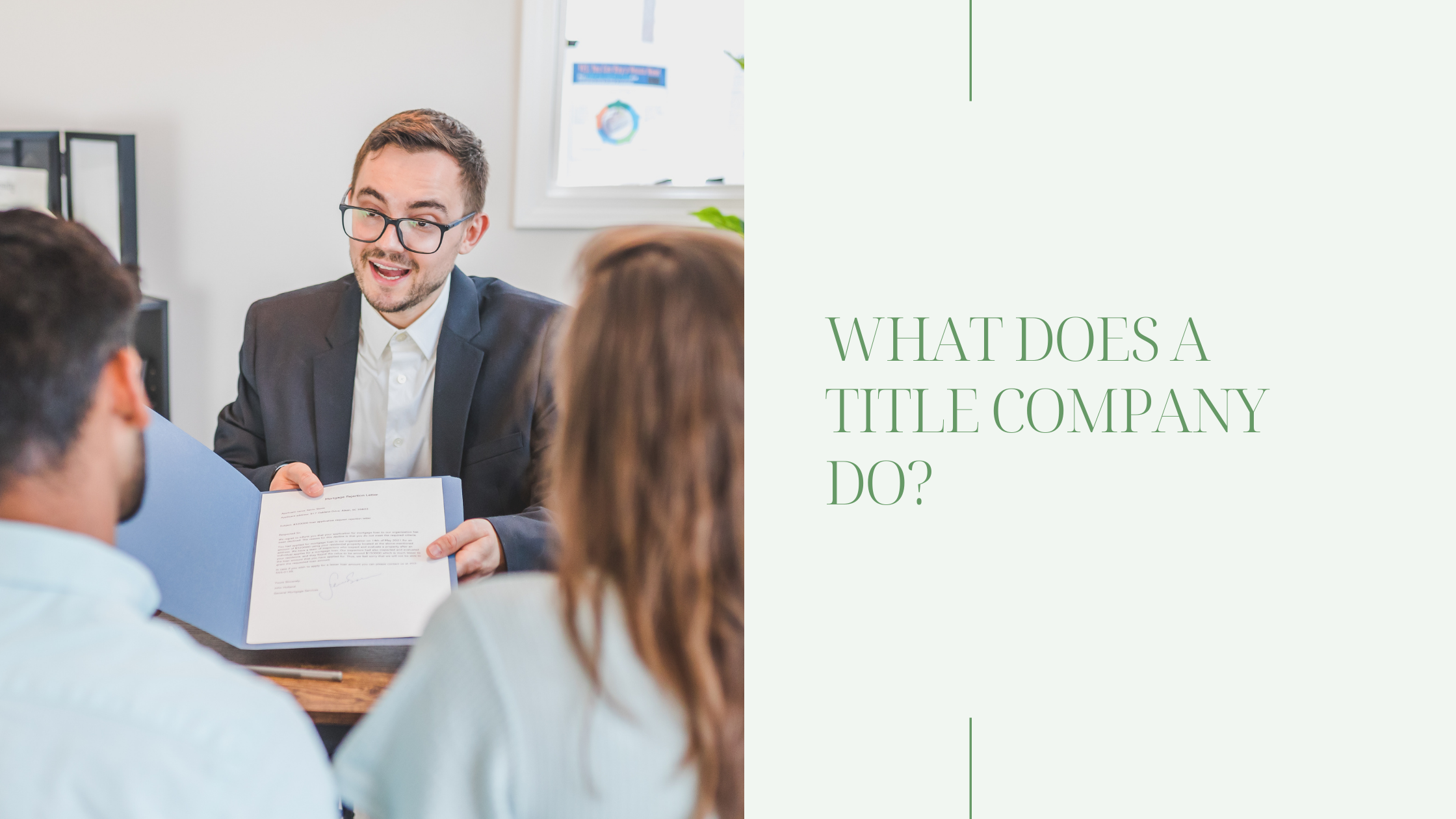 A Title Company is responsible for verifying that the title to a property is legitimate and that the seller has the rights to sell said property to a buyer. They do this by making sure that there are no barriers to purchase like liens, prior mortgages, fraudulent transfers, unknown heirs, and more.
Once verified, the Title Company will provide title insurance, that protects the lender if title issues surface, and potentially the buyer – depending on which policy they choose.


In order to issue Title Insurance, a Title Company must…

Perform a Title Search.

Typically, the first thing a title company will do, a title search checks to see if there are other people who have ownership or rights to the property. It can also reveal outstanding mortgages, any other existing liens, unpaid Homeowners Association dues, judgments or unpaid tax liens, restrictions, easements, and leases.

In any of these instances, these fees – or restrictions – must be paid off or dealt with before both the seller and buyer can move forward.


Conduct a Property Survey.

Sometimes, a property survey, or drawing of the property, is required. This will reveal any potential infringements on the property or the land the property occupies, such as a neighbor's addition having been built in your property. A property survey will verify that the home is set within its boundaries.

A property infringement could become an issue if there is physical damage caused as a result. If this is the case, the title company will have to take this into consideration when choosing an insurance policy.


Prepare Abstract of Title & Title Opinion.

An Abstract of Title is a document that shows the history of ownership of a property. This includes when the property was previously sold, and any history of inheritance, court litigation, and tax sales.

Once the Title Company has the prepared Abstract of Title, they write an official Title Opinion. This document states the seller is the valid owner of the property and they are willing to insure the title for purchase or refinance.
What is Title Insurance?
This is a type of insurance that protects lenders and homeowners from any financial loss, in the case that another party makes a claim to the property title. There are two types of title insurance policies that homeowners can get. These are 1) Lender's Title Insurance and 2) Owner's Title Policy.


Types of Title Insurance

Lender's Title Insurance. Lender's Title Insurance is required for anyone who is getting a mortgage license. This type of insurance protects the mortgage lender if there is an issue with the property's title. It is typically paid for by the buyer, and in some cases, the seller will pay. The most important thing to understand about Lender's Title Insurance, is that it does not protect any existing equity on the home, and for that, the buyer will need to consider a Owner's Title Policy.


Owner's Title Policy. An Owner's Title Policy is an optional insurance policy for buyers who are looking to protect the equity in their home. With this type of insurance, a buyer is protected in the case that another party shows proof of ownership to the title, and whoever transferred the property wasn't authorized to do so. In this case, the buyer will still have to vacate the home, but they would be given money to buy a new property of equal or lesser value. Without this type of insurance, the buyer would have to leave the home and would not be compensated for any equity built into the home.


When should you consider getting Owner's Title Insurance?
All homebuyers who purchase a home through a mortgage lender will be required to purchase a Lender's Title Policy. However, it is their choice whether they want to obtain an Owner's Title Policy. To help decide if an Owner's Title Policy is right for you, ask yourself the following questions:


Has the home had multiple owners? If the property has a history of many owners, there is more chance that a separate party could come forward with a claim on the title. Owner's Title Insurance would protect the buyer for such claims.



Would you be able to afford the legal fees to dispute any potential claims? Even if it is not legitimate, the buyer will still be responsible for the legal fees to dispute the claim to the title. With an Owner's Title Insurance Policy, the title company is responsible for providing the defense for the buyer.



How much is your peace of mind worth? By obtaining insurance, a buyer has a certain level of protection in the case that someone makes a claim on the title. It protects their investment on the home and pays for any legal fees that may be necessary.
RECENT POSTS